Best Locations for Engagement Shoot in London
(Updated 2022)
Every week, you can find me photographing couples in town, so I'm always on the hunt for the best locations for engagement shoot in London 2019. Whether you're looking to take photos around London's most iconic landmarks, modern or classic architecture, quirky off the beaten path spots in town, there is no doubt that London is a place for the most adventurous couples. The city offers a perfect background for every type of shoot, no matter what time of the year.  I've updated this blogpost with a few more updated photos of some locations for engagement shoots in 2020! 
I created a page in my website where you can find everything about the way I shoot my engagement sessions in London! So, if you want to find out more about my style and approach + my best tips, including what to wear and what to avoid, check out my London Engagement Shoots guide!
If you are asking yourself what is the best time of the year to do an engagement shoot in London, I'd say it really doesn't matter! This city offers such a variety of awesome locations that feature their own uniqueness all throughout the year, and in this blogpost I will list from the most iconic places to the hidden gems in town!
Here's my list of 11 top locations for engagement shoot in London:
1. Westminster
The first place that comes to mind when you think of London, so I couldn't start this post without mentioning it first!
This area alone features most London's iconic landmarks and Britain's largest church. Westminster is usually the number one place tourists will head to when they arrive in town!
Most couples head to Westminster as the starting point of our engagement shoot in London as it is super close to famous spots like Westminster Bridge, London Eye, Westminster Abbey, Houses of Parliament and oh, that tiny clock tower we all love… Big Ben!
Here's a few of my photos of some of the best spots for engagement shoots in London's Westminster:
Westminster Bridge


Big Ben
London Eye
2. South Bank
Also super close to Westminster's Big Ben and London Eye, a cool location for engagement shoots in London it's South Bank.
It is London's cultural district, full of vibrant colours, street food trucks, a skate park, lots of art installations, the London aquarium, funny buskers and even a huge vintage book fair!
South Bank is such a diverse location to shoot couples as it is right by London's infamous landmarks by River Thames. Also, depending on what time of the year you visit, there's always something quirky going on! christmas fairs, love festivals, summer boat parties, you name it!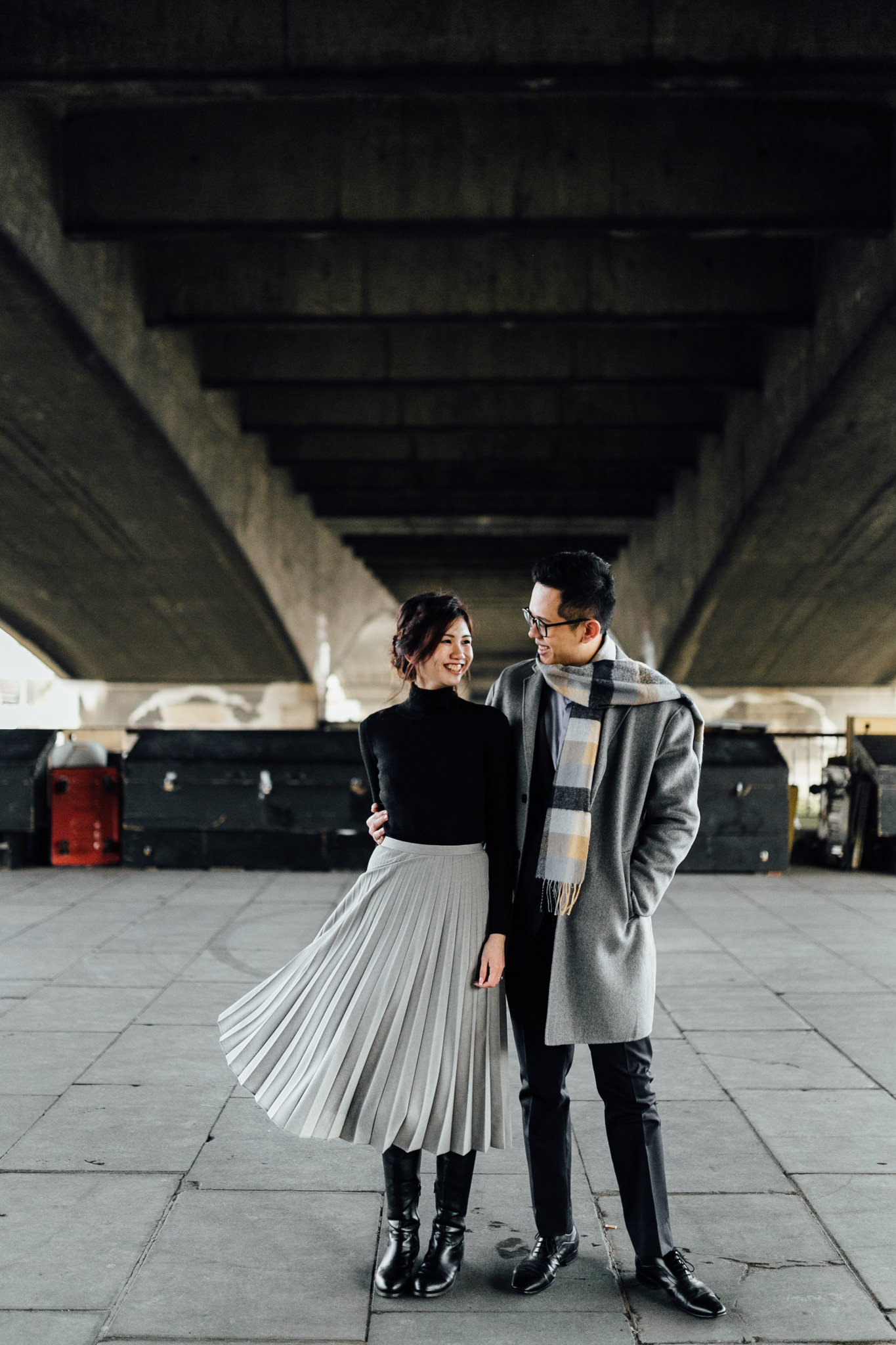 3. Barbican Centre
If you're looking for a more off the beaten path spot to shoot in London, my favorite suggestion is always the mighty Barbican!
The Barbican is London's largest art's centre and features one of the most jaw dropping brutalist architectures you'll ever see. It's structure reminds me of a concrete jungle. I always get a bit emotional, no matter how many times I shoot engagement shoots at the Barbican!
The complex has a full variety of locations to shoot inside, from their beautiful botanical conservatory to it's exhibition halls, the water fountains and surrounding architecture.
Have a look at my full blogpost featuring Ben + Megan's engagement shoot at the Barbican Centre!
4. Millennium Bridge + St Pauls
The Millennium Bridge has it all: amazing views of the river thames and Tate Modern, a stunning futuristic glass + metal architecture and lines that lead straight to St Paul's Cathedral, which makes it one of London's most popular locations and one of my favorite bridges in the world.
It's the perfect spot to include in your London's engagement shoot itinerary, and although it might take a fair bit of walking to get there, we can always tie it together with another spot that is unmissable to shoot at, Tower Bridge (more on that one below)!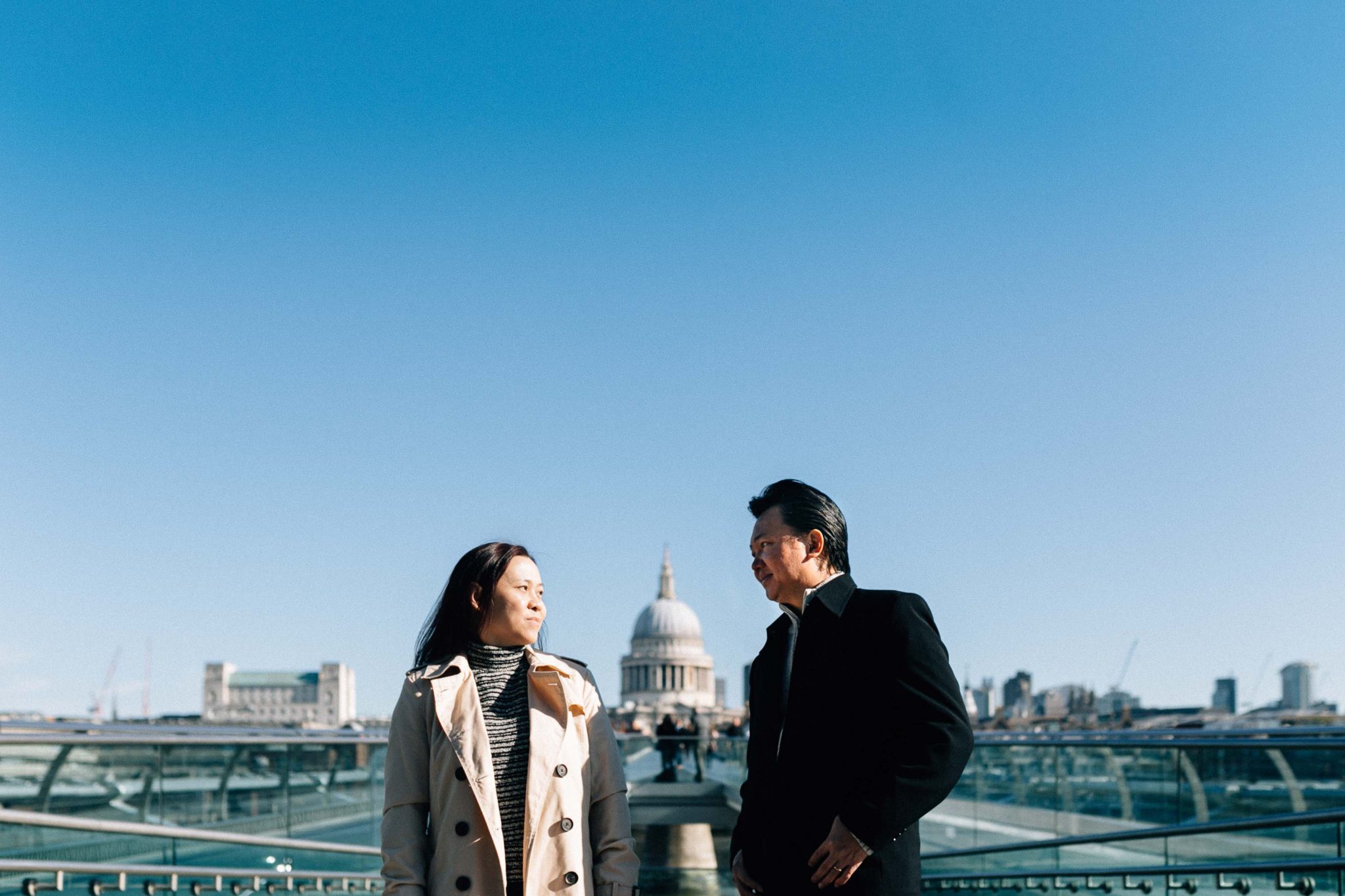 5. Tower Bridge
Another London postcard, Tower Bridge is such a great spot for engagement shoots as it features the British flag colours and a stunning historical structure which leads to Tower Hill.  I love the whole contrasted view that you get of the modern giant glass buildings mixed up with London's old classic architecture in the background.
6. St. Dunstan in the East



St Dunstan in the East is one of my favourite places to shoot in London and only minutes away from the iconic Tower Bridge. It is one of the most beautiful gardens sneaked right in the City of London and it almost feels like a secret hide away as every time I go there the place is usually peaceful and deserted, making it the perfect private spot for my sessions. I usually tie this location in with shoots that include Tower Bridge as the main location as it really is just a few steps away from the bridge and totally worth the visit for a change of scenery that would include some whimsical greenery.
7. Covent Garden
Situated in the West End of the city, Covent Garden attracts most Londoners as well as tourists throughout the year!
It's always got some quirky theme decoration depending on what time of the year you go! It's a great little spot for engagement shoots as it's surrounding area is filled with trendy shops, restaurants, quirky pubs and coffee spots.
Spoiler alert about Covent Garden – there's no garden…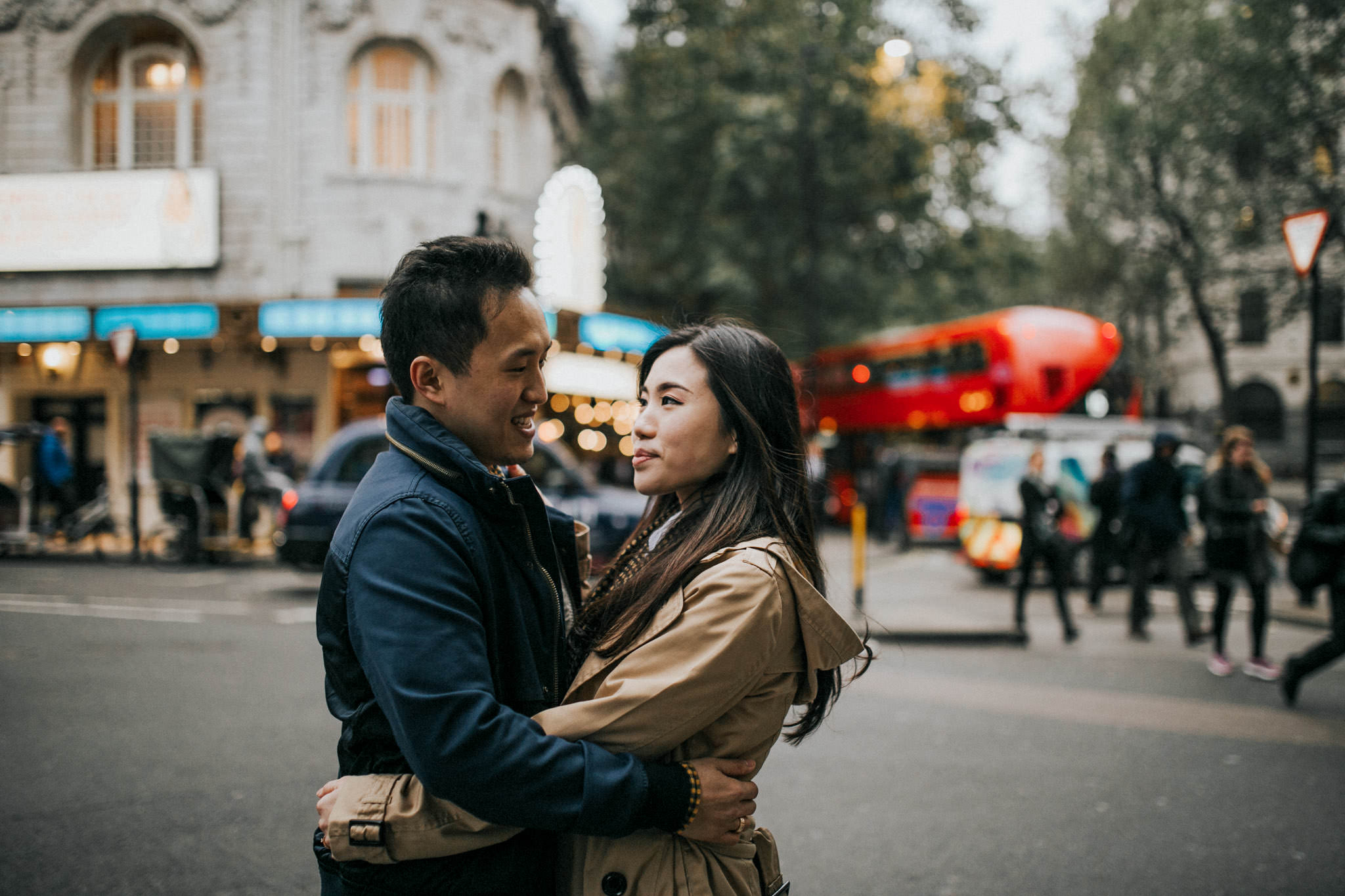 8. The Vaults
I actually discovered this little off the beaten path spot in London when watching an episode of Black Mirror!
I couldn't believe how close this was to Waterloo, Big Ben and Westminster Bridge… so I decided to start taking a few of my couples there whenever they were looking for a more "alternative" location for their engagement shoot in London! The Vaults are tunnels near Waterloo Station filled with awesome graffiti and unique light spots which makes it an edgy backdrop for fun photos!
9. Trafalgar Square
Situated between Covent Garden and Buckingham Palace, these two locations totally embody London's architectural gold!
Obviously it is a place I like to include in most of my engagement shoots in town, specially when moving between locations in London.
Check out Melia + Bisi's London Engagement Shoot for more photos around these locations!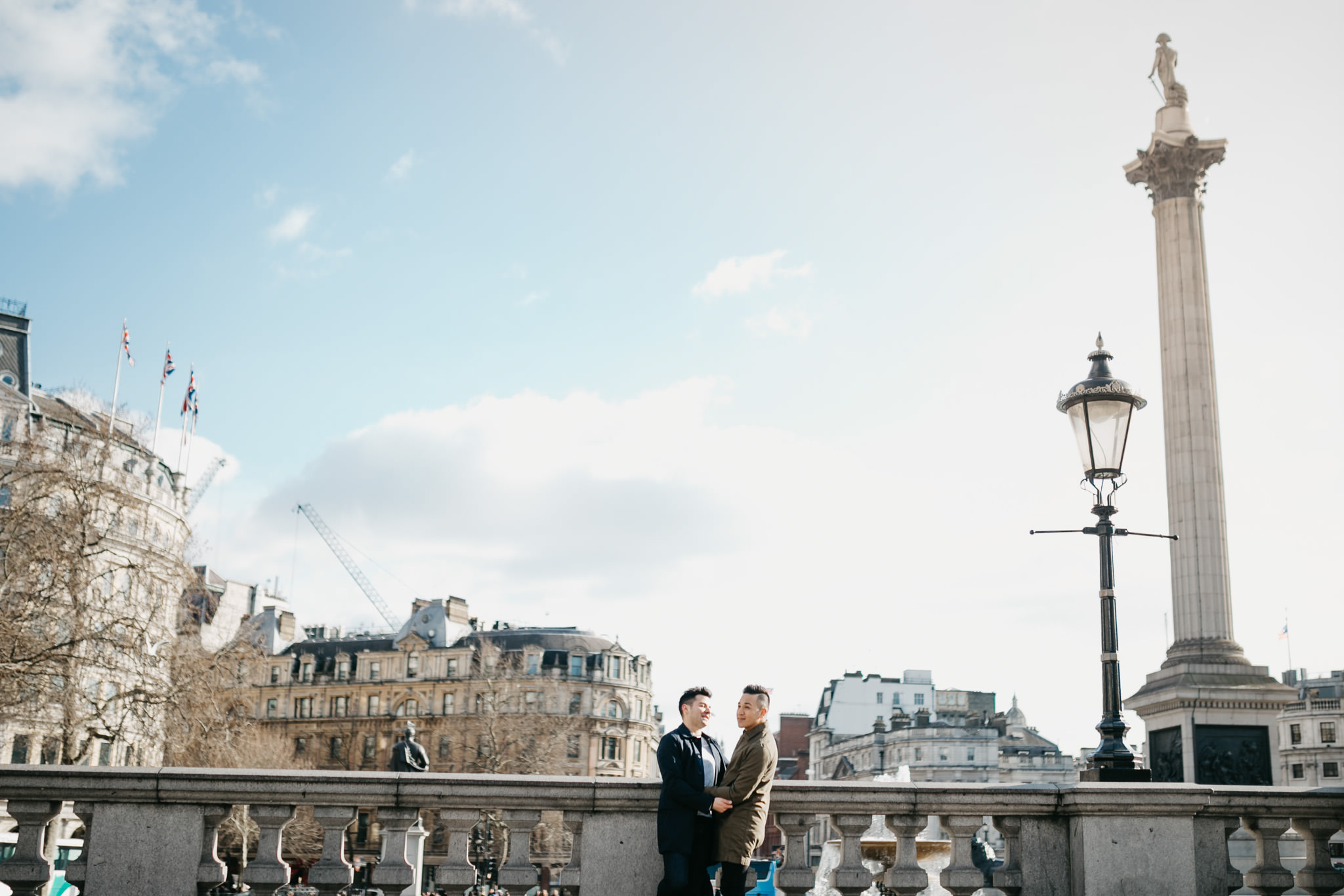 10. Kew Gardens
Situated 30 mins from central London, Kew Gardens is one of my favorite spots to visit when I have a day off, and obviously one of the BEST spots for engagement shoots in London. It hosts one of the largest and most diverse botanical collections in the world, all living inside it's beautiful gardens and insane glass houses.
I'm a massive botanical lover, so this place is paradise for getting me inspired when I'm photographing couples. Juts to give you a little insight, check out the range of different locations we can shoot in there: a treetop walkway, a waterlily house, the sackler crossing bridge, a Bonsay house, a huuuge Pagoda in one of their gardens, and my favorite – the Palm House – where the natural light amongst the plants is so perfect that my camera might actually explode from excitement. For those having botanical theme weddings, like one of my couples Milly and Olly did, Kew Gardens is the ideal spot in London for your pre-wedding shoot!
Check out their Engagement Shoot at Kew Gardens that was published on Rock My Wedding! 
11. Horse Guards + St James Park



Horse Guards is a historic building near Westminster and  it has a great location for engagement shoots in London. You can see the London Eye peeking from the background and crossing the road we will be right at the doorsteps of St. James Park! The park is surrounded by awesome landmarks such as the Buckingham Palace and features beautiful flower beds, and a lake filled with swans and exotic birds.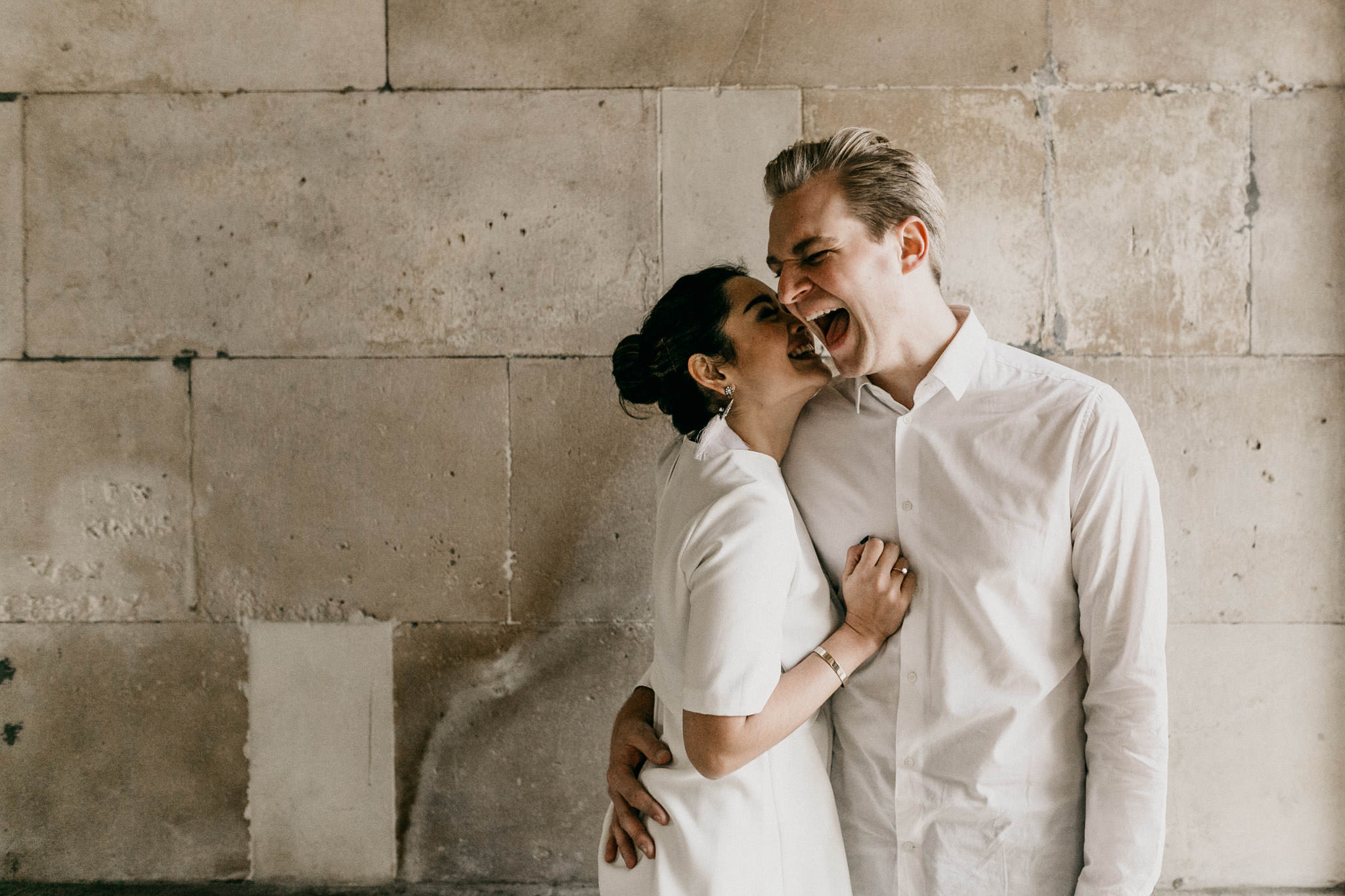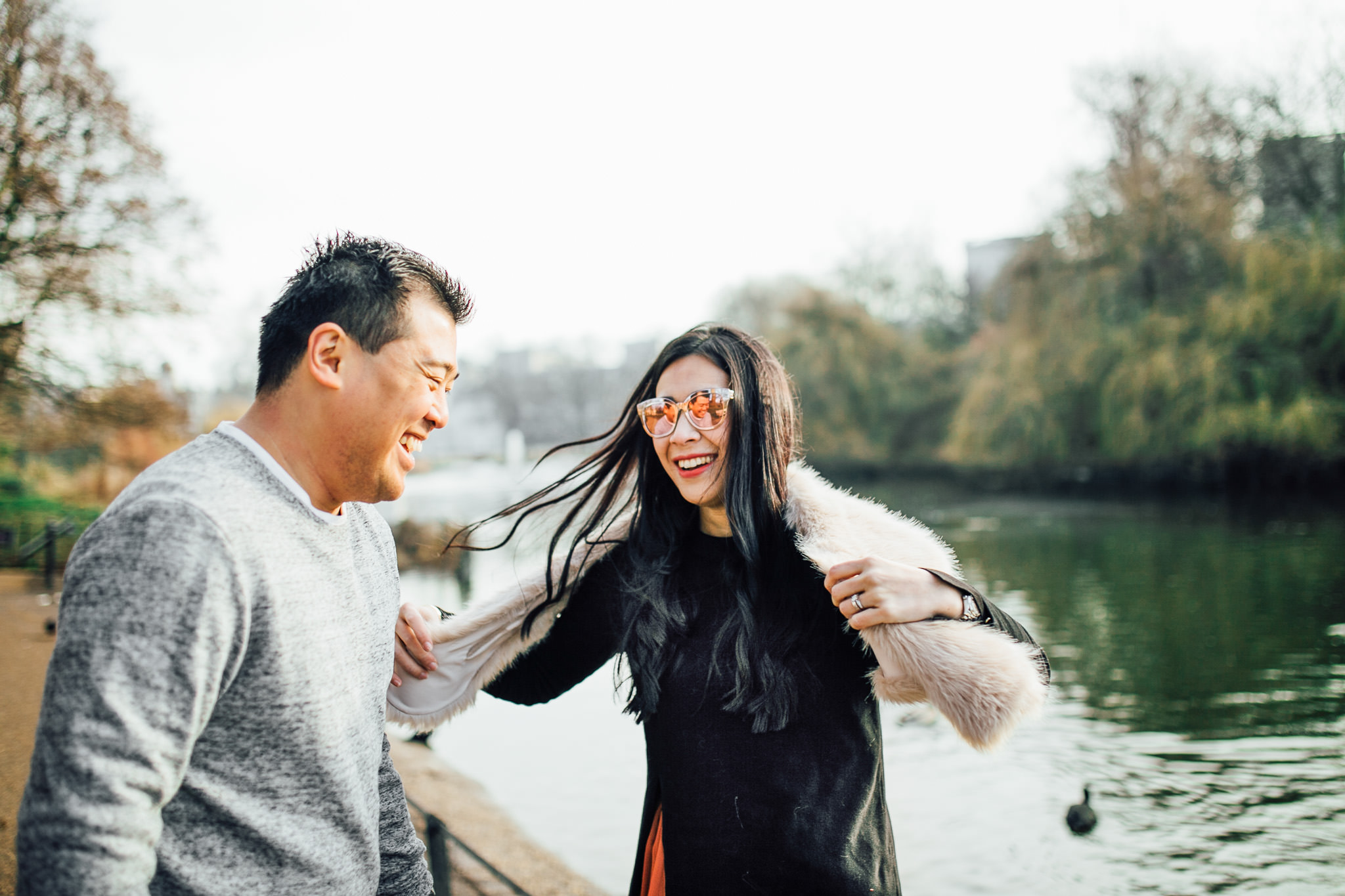 11. South Kensington
I just recently added South Kensington to one of the best places to shoot couples in London because of the variety of incredible old x modern architecture that surrounds this super quintessential area of the city. It is filled with those classic London houses you see in the movies, it gathers some of the most famous museums in the world + all the quirky tea and coffeeshops you can possibly imagine. If that's not good enough, we can always head to Hyde Park, or even better Kensington Gardens where it's blooming' beautiful all year round.
10. Horniman Museum and Gardens
I love shooting engagement shoots at the Horniman musem and gardens and this places is a great option for couples looking for a more off the beaten path spot that includes a lovely well lit conservatory and beautiful gardens.  
If you fancy a change of scenery from the the busy city to somewhere where the sun is (almost) always shining,  I have the perfect place for you, and it's only situated 1h away from London…
Brighton is just the most colourful, quirky and fun location for engagement shoots in the UK, and it is also where I happily live! 🙂

Brighton is located in the southeast coast of England, but really is the coolest British seaside town I've ever visited. So when I first came here from London a few years ago, I knew I instantly had to move down here! 
Brighton is famously known for it's kitsch seafront, home to the Palace pier. A twinkling fairground on the water's edge, where we can grab some of the city's best fish and chips, play arcade games and explore the rollercoasters. There's plenty of great locations for engagements shoots in Brighton such as the beach huts, the colourful lanes, and the sun setting over our stoney beach. 
Check out Tom + Jo's Engagement Shoot in Brighton!
Yas! So there you go. All of the top best locations for engagement shoot in London  all listed in this one blogpost!
Also, you can read more about my approach, style and other tips for London Engagement Shoots here!
If you're interested in shooting around any of these locations or need help building an itinerary so that we can tie a bunch of them in one shoot,
get in touch and let's make it happen! 🙂